The Timeless Appeal of Vintage Pendant Lamps
A Glimpse into the Past
Vintage pendant lamps serve as a bridge between the past and the present, effortlessly merging old-world charm with contemporary aesthetics. The early 20th century was a time of rapid industrialization and urbanization, and with it came a surge in innovations in home lighting. The filament bulb, with its glowing tungsten wire encased in a delicate glass shell, became an iconic symbol of this era.
But why has this style endured for over a century? One reason is the emotional resonance they hold. These lamps evoke feelings of warmth, comfort, and nostalgia. In a world increasingly dominated by technology and modernity, there's a yearning for simpler times, and vintage pendant lamps encapsulate that sentiment perfectly.
Furthermore, the craftsmanship of these lamps is unparalleled. In an age without advanced machinery, each lamp was painstakingly crafted by hand, ensuring every piece was unique. The imperfections, the slight variations in design, all add to their character.
Incorporating Modern Technology: LED Lights
While the design of vintage pendant lamps may be rooted in the past, today's versions have been revitalized with cutting-edge technology. LED lights, with their myriad benefits, have been integrated into these classic designs. They consume significantly less power than traditional bulbs, leading to lower electricity bills. Additionally, LED lights have a longer lifespan, meaning less frequent replacements and reduced waste.
But how has the integration of LED technology impacted the design and aesthetic of vintage pendant lamps? One might assume that the modern, sleek look of LED lighting might clash with the rustic, ornate design of vintage lamps. However, manufacturers have risen to the challenge, producing LED bulbs that mimic the warm glow and intricate filament designs of yesteryears.
Moreover, with the rise of smart homes, even these vintage designs can be controlled using modern gadgets. Imagine adjusting the brightness of your vintage pendant lamp using a smartphone app or voice command! The blend of old and new is truly fascinating.
Expanding the Design Palette: Track Lighting and More
One of the most exciting developments in the world of vintage pendant lamps is the incorporation of track lighting. Track lighting systems, which consist of multiple adjustable light heads on a single track, provide unparalleled flexibility. Homeowners can now customize the position and direction of each light, allowing them to highlight specific areas or create varied lighting moods.
Additionally, track lights come in various styles, from sleek and modern to ornate and vintage-inspired. This means that even within the realm of vintage pendant lamps, there's a vast array of designs to choose from. Whether you prefer the minimalist Scandinavian designs or the opulent Victorian styles, there's something for everyone.
LED profiles, which are essentially housing structures for LED strip lights, have also added another dimension to vintage pendant lamp designs. These profiles can be seamlessly integrated into the lamp's structure, providing additional illumination without detracting from the vintage aesthetic.
Vintage Pendant Lamps in Commercial Spaces
While vintage pendant lamps are a favourite among homeowners, they've also found a place in commercial settings. Cafes, restaurants, boutiques, and even offices are now showcasing these timeless pieces. The warm, ambient light they provide creates a cosy, inviting atmosphere, making customers feel at ease.
In spaces like cafes, where the ambiance plays a crucial role in the overall experience, vintage pendant lamps, complemented by LED strip lights, can make all the difference. They can be strategically placed over tables or counters, providing the perfect amount of illumination while adding to the decor.
The Artistry Behind Vintage Pendant Lamps
Every vintage pendant lamp tells a story. Behind its ornate design lies the meticulous effort of artisans who shaped and moulded each piece. The glass casing, often hand-blown, is a testament to the skill and dedication required in the craft. The intricacies of the filament design, the curvature of the glass, and even the choice of metals used in the frame all contribute to the lamp's unique character.
In the UK, the craftsmanship of vintage pendant lamps is highly valued. Artisans undergo rigorous training, often handed down through generations, to perfect their skills. Today, while machines have taken over much of the manufacturing process, the artistry in high-end vintage pendant lamps remains a human endeavour. This commitment to craftsmanship ensures that each lamp is not just a lighting fixture but a piece of art.
The Role of Vintage Pendant Lamps in Cinema and Media
One can't deny the impact of cinema and media in popularising vintage pendant lamps. From classic films set in the early 20th century to modern dramas with a vintage aesthetic, these lamps have been prominently featured. Their ability to set the mood, whether it's a cosy romantic scene or a suspense-filled moment, makes them a favourite among set designers.
Moreover, television shows and period dramas set in the UK often showcase vintage pendant lamps, reflecting the nation's rich history and architectural heritage. These visual representations further embed the allure of these lamps in the public's consciousness.
Environmental Benefits of Modern Vintage Pendant Lamps
While the vintage design evokes feelings of nostalgia, modern vintage pendant lamps are at the forefront of sustainability. The integration of LED lighting, as mentioned earlier, offers energy efficiency. But there's more to the story. LED lights are mercury-free, reducing the environmental impact when they're eventually discarded. They also produce less heat, reducing the strain on air conditioning systems, especially in commercial settings.
Additionally, manufacturers are increasingly sourcing sustainable materials for the lamp frames and casings, ensuring that the environmental footprint is minimised from production to disposal.
Vintage Pendant Lamps in Contemporary Design Trends
The world of interior design is ever-evolving, with trends coming and going. However, vintage pendant lamps have consistently found their place, regardless of the prevailing trend. In the minimalistic designs favoured by Scandinavian themes, these lamps add a touch of warmth and intricacy. In bohemian and eclectic interiors, they complement the mishmash of colours and patterns. Even in ultra-modern spaces, a strategically placed vintage pendant lamp can serve as a statement piece, creating a delightful juxtaposition.
It's worth noting that advancements in lighting technology, such as linear led lighting and led profiles, have further expanded the design possibilities. Designers can now play with light and shadow in ways that were previously unimaginable.
Maintenance and Care: Ensuring Longevity
Any vintage piece, including pendant lamps, requires care to ensure its longevity. Regular dusting, using a soft cloth, can keep the glass casing clear and luminous. When it comes to replacing bulbs, especially in LED integrated designs, choosing quality replacements ensures that the lamp continues to function efficiently.
In the UK, there are also restoration experts who specialise in vintage pendant lamps. They can repair damages, replace worn-out parts, and even update the lamp with modern fixtures while retaining its vintage charm.
A Journey Through Time: Evolution of Pendant Lamps
The Dawn of Illumination: Early Lighting Solutions
Before the invention of electricity, humans relied on natural sources of light like the sun, moon, and fire. In ancient civilisations, torches, oil lamps, and candles were common methods of indoor lighting. These rudimentary lamps, often made from clay or metal, were filled with oil and had a wick that, when lit, provided light.
The Romans and Greeks made significant improvements in lamp design, introducing ornate patterns and more efficient shapes. However, these early lighting solutions were not without their challenges. They emitted smoke, needed frequent refilling, and the light they provided was dim compared to modern standards.
The Birth of the Pendant Lamp
As technology advanced, so did the desire for more efficient and aesthetically pleasing lighting solutions. The pendant lamp's concept, a light fixture that hangs from the ceiling on a chain or rod, dates back several centuries. Initially, these were simply elongated versions of the typical tabletop oil lamps, suspended to provide broader illumination without occupying space.
The design and materials used in pendant lamps varied across cultures. In the UK, for instance, pendant lamps made from brass or bronze, with intricate engravings and glass panels, were quite popular during the Victorian era.
The Electric Revolution
The invention of the electric bulb by Sir Hiram Maxim, followed by Thomas Edison's significant contributions, revolutionised lighting. The filament bulb, with its bright, consistent light and longer lifespan, quickly became a staple in households and commercial spaces. This innovation allowed pendant lamps to evolve from simple hanging oil lamps to sophisticated fixtures with complex designs and multiple bulbs.
The early 20th century saw the rise of the vintage pendant lamps we're familiar with today. The transparent glass casing, designed to showcase the filament's beauty, became a symbol of elegance and modernity.
The LED Era: A New Dawn
Fast forward to the 21st century, and LED lights have taken the world by storm. These lights, known for their energy efficiency, longevity, and versatility, have reshaped the lighting industry. The vintage pendant lamp, with its classic design, has seamlessly integrated LED technology.
Modern innovations like led track lighting and led strip lights have further expanded the possibilities. Track lighting, with its adjustable heads, allows for focused illumination, making them ideal for spaces like art galleries or showrooms. On the other hand, LED strip lights, with their flexibility, can be moulded into various shapes, providing designers with a creative tool to accentuate and highlight features of a space.
Pendant Lamps Today: Blending the Old with the New
Today, vintage pendant lamps are cherished not just for their aesthetics but also for the history they represent. Modern designs often draw inspiration from the past, blending vintage elements with contemporary features. Materials like copper, brass, and glass, reminiscent of the olden days, are combined with sleek metals and smart technology.
In the UK, the demand for vintage pendant lamps has seen a steady rise. Whether it's to add character to a modern apartment or to restore a century-old mansion, these lamps are a preferred choice. Moreover, with the increasing emphasis on sustainable living, LED-integrated vintage pendant lamps offer an eco-friendly solution without compromising on style.
In Conclusion
The journey of pendant lamps, from simple hanging oil vessels to intricate electric fixtures, is a testament to human ingenuity and the relentless pursuit of beauty and functionality. As we stand at the intersection of history and modernity, it's heartening to see vintage pendant lamps shine brightly, reminding us of our rich past while illuminating the path to a sustainable future.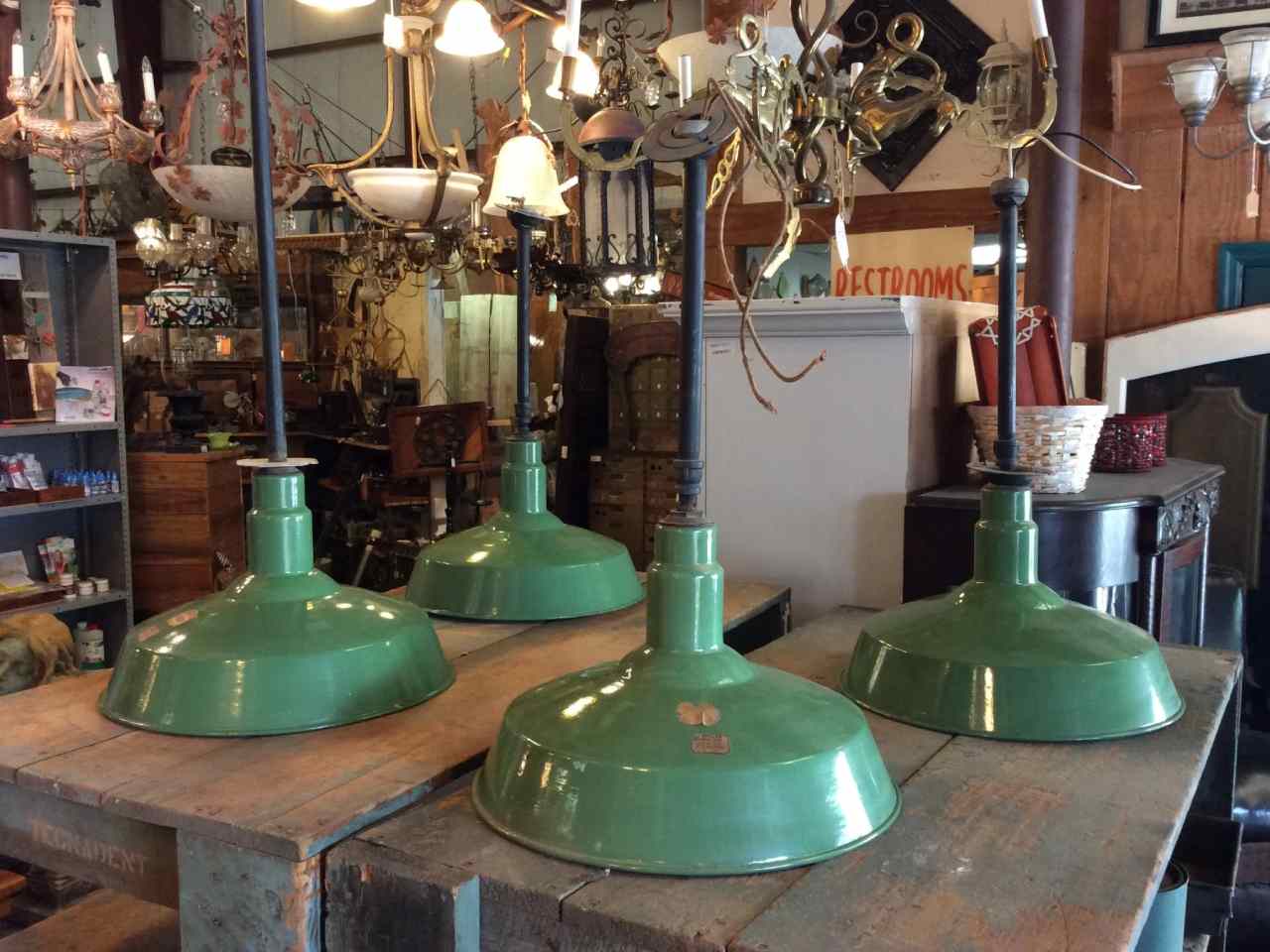 Top Vintage Pendant Lamps to Illuminate Your Space
The Rise of Vintage Aesthetics
Over the past few decades, vintage aesthetics have seen a significant resurgence in popularity, especially in the UK. From fashion to furniture, there's a growing appreciation for designs that encapsulate the charm and elegance of bygone eras. Vintage pendant lamps, with their intricate designs and timeless appeal, perfectly fit this trend.
Time and time again, Scandinavian design has proven its mettle in the world of interiors. The Copper Pendant Lamp is no exception. Crafted meticulously by Danish designers, this lamp is a harmonious blend of minimalism and elegance. Its shimmering copper exterior complements the warm glow of the bulb, making it an ideal centrepiece for any room. When paired with a globe-shaped LED bulb, the lamp radiates a soft, ambient light, perfect for creating a cosy atmosphere.
Glass and Brass Pendant Lamp: A Nod to Tradition
The combination of glass and brass evokes a sense of nostalgia, reminiscent of the classic lamps of the early 20th century. The Glass and Brass Pendant Lamp, with its transparent casing and gleaming brass frame, is a true testament to the craftsmanship of yesteryears. It's a versatile piece, fitting seamlessly into both traditional and contemporary settings. Whether it's illuminating a rustic wooden dining table or hanging above a sleek marble countertop, this lamp stands out.
Linear LED Pendant Lamps: Modern Meets Vintage
Embracing the benefits of LED technology, linear LED pendant lamps are a modern take on the vintage design. These lamps, often elongated, utilise led linear lighting to produce a continuous, soft glow. Their design is both functional and aesthetic, providing ample light while serving as a statement piece. Available in various materials, from rustic wood to polished metal, there's a linear LED pendant lamp for every style preference.
The Classic Filament Bulb Pendant
No discussion about vintage pendant lamps is complete without mentioning the classic filament bulb design. With its transparent glass casing and exposed filament, this design is the epitome of vintage charm. Over the years, advancements in LED technology have allowed for the creation of LED bulbs that mimic the look of traditional filament designs. This means homeowners can enjoy the vintage aesthetic without compromising on energy efficiency.
The Industrial Revolution: Metal Cage Pendants
Drawing inspiration from the industrial era, metal cage pendant lamps have become a favourite among interior designers. These lamps, often made from wrought iron or steel, feature a bulb encased in a metal cage. The design is rugged, raw, and oozes character. It's a perfect fit for spaces that embrace the industrial-chic design trend. Paired with LED bulbs, these lamps are both energy-efficient and stylish.
Smart Vintage Lamps: The Best of Both Worlds
In an age of smart homes and automation, even vintage pendant lamps have received a tech upgrade. Modern versions of these lamps come equipped with features like remote control, dimming capabilities, and even voice control. Imagine the charm of a vintage lamp combined with the convenience of modern technology – it's the best of both worlds.
In Conclusion
Choosing the right pendant lamp can transform a space, elevating its aesthetics and ambiance. Vintage pendant lamps, with their rich history and timeless designs, are a worthy investment. They're not just lighting fixtures; they're pieces of art, carrying stories from the past while shining brightly in the present.