Introduction
Office lighting is more than just a functional necessity; it plays a pivotal role in shaping the ambiance, influencing productivity, and enhancing the overall well-being of employees. A well-lit office can boost concentration, reduce eye strain, and even elevate mood. On the other hand, poor lighting can lead to fatigue, decreased efficiency, and even health issues like headaches and eye problems.
An astounding 68% of employees complain about the lighting situation in their offices. This statistic underscores the importance of getting office lighting right. The right balance of natural and artificial light can lead to a 15% reduction in absenteeism. Furthermore, The essence of strategic lighting design, stating that it can significantly impact an employee's ability to focus and complete tasks efficiently.
In the realm of office lighting, one size does not fit all. Factors like the nature of tasks, the age of employees, and even the geographical location of the office can influence lighting needs. Optimizing office lighting can lead to a 19% improvement in productivity. The significance of layering different light sources to create a versatile and adaptable lighting environment.
In the age of remote work, even home offices are not exempt from the need for proper lighting. The right lighting setup at home can make the difference between a productive workday and a lackluster one.
In conclusion, as we delve into the intricacies of office lighting in this guide, remember that the ultimate goal is to create a harmonious environment that fosters productivity, ensures comfort, and promotes well-being.
Ergonomics and Impact of Lighting on Work
Ergonomics, the study of people's efficiency in their working environment, plays a pivotal role in determining the productivity, creativity, and overall health of employees. One of the most overlooked yet crucial aspects of ergonomics is lighting. Proper lighting not only illuminates the workspace but also significantly influences an employee's performance and well-being.
1. The Role of Lighting in Ergonomics:
Productivity and Creativity: Proper lighting can boost employee productivity by up to 16% and reduce the potential for errors. A well-lit environment fosters creativity, allowing employees to think more clearly and come up with innovative solutions.

Health Implications: Inadequate lighting can lead to eye strain, fatigue, headaches, and even mood disorders. On the other hand, natural light exposure can improve sleep quality and mood, reducing the risk of depression.

Circadian Rhythm: Our body's internal clock, or circadian rhythm, is influenced by light exposure. Proper lighting can help regulate this rhythm, ensuring employees remain alert during working hours and sleep well at night.
2. Implementing Ergonomic Lighting: Tips and Examples
Natural Light: Whenever possible, utilize natural light. It not only reduces energy costs but also offers health benefits. For instance, the design gesture emphasizes the importance of positioning workstations near windows or using transparent partitions.

Adjustable Lighting: Consider installing adjustable lights that allow employees to control brightness based on their tasks and preferences. This ensures optimal illumination without causing eye strain.

Color Temperature: The color temperature of light can influence mood and productivity. For instance, cooler lights can enhance concentration, while warmer tones can be relaxing.

Avoid Glare: Glare can be a significant source of discomfort. Ensure that lights are positioned in a way that they don't reflect directly into employees' eyes or on their computer screens.
3. Data Supporting the Correlation Between Lighting and Performance:
Studies have shown that exposure to natural light can improve sleep by 46 minutes, enhancing overall productivity and mood.

A well-lit environment can reduce the potential for errors by up to 19%, ensuring efficient work processes.

Employees working in environments with proper lighting report a 15% reduction in stress and a 10% improvement in mood.
Lighting, when incorporated ergonomically, can transform a workspace. It not only ensures the well-being of employees but also significantly boosts their productivity and creativity. By understanding the science behind lighting and its impact, businesses can create an optimal environment that fosters growth and innovation.
Comprehensive Guide to Choosing and Implementing Office Lighting
Office lighting plays a pivotal role in creating a conducive and productive work environment. Proper lighting can enhance employee well-being, reduce eye strain, and boost productivity. This guide will delve into the intricacies of choosing and implementing the best lighting solutions for your office, with a special emphasis on LED lighting.
Why LED Lighting?
LED (Light Emitting Diode) lighting has emerged as a popular choice for offices due to its myriad advantages:
Energy Efficiency: LED lights consume significantly less energy compared to traditional incandescent bulbs. They can save up to 80% more energy, which not only reduces electricity bills but also contributes to a greener environment.
Longevity: LED bulbs have a longer lifespan, often lasting up to 25,000 hours or more. This means fewer replacements and reduced maintenance costs.
Flexibility: LEDs offer a range of color temperatures, allowing offices to choose a hue that best suits their environment. Whether you want a warm ambiance or a cool, focused light, LEDs have got you covered.
Safety: LEDs produce less heat, reducing the risk of burns or fires.
Best Practices in Office Lighting
Before diving into the specifics, it's essential to understand some best practices:
Study the Office Layout: Before choosing lighting, it's crucial to study the office layout. Understand where the workstations are, the location of common areas, and other spaces like the reception. This will help in determining where more or less light is needed.

Balance Between Natural and Artificial Light: Ensure there's a harmonious balance between natural and artificial light. Natural light can boost mood and productivity, so maximize it wherever possible. However, for spaces without access to natural light or for evenings, artificial lighting becomes essential.

Safety Regulations: Adherence to safety regulations is paramount. Ensure that the lighting fixtures and installations comply with local regulations to avoid any legal complications.

Employee Feedback: It's essential to consider the feedback of the employees who will be using the space. After all, they are the ones who will be directly impacted by the lighting. Ensure that the lighting is neither too dim nor too harsh.
Common Mistakes to Avoid:
Not Planning: Before installing or changing office lighting, it's essential to have a clear plan in place. This ensures that the lighting meets the office's needs and avoids wasteful spending.

Ignoring the Budget: While it's tempting to go for cheaper options, it's crucial to invest in quality lighting that will last longer and provide better illumination.

Improper Installation: Incorrectly installed lighting can lead to issues like uneven illumination, glare, and increased energy consumption. It's always a good idea to hire professionals for installation.

Choosing the Wrong Color: The color of the lighting can significantly impact the mood and productivity in an office. Neutral colors like white, gray, and black are generally recommended.

Selecting the Wrong Type of Lighting: Different areas of the office have different lighting needs. For example, entrance areas might require brighter lights than individual workstations.

Using Inappropriate Fixtures: The right fixture can enhance the light's effectiveness and the office's aesthetics. It's essential to choose fixtures that match the office's design and the type of light being used.
Real-life Example:
Consider the case of "XYZ Corp," a mid-sized company that recently revamped its office lighting. They transitioned from relying solely on overhead fluorescent lights to a combination of LED overhead lights, task lighting at each workstation, and maximizing natural light through large windows. As a result, employees reported a significant reduction in eye strain, improved mood, and increased productivity. The company also noted a 30% reduction in energy costs.
The Role of Natural Light and Artificial Lighting
Natural light is a boon for any office. It can uplift moods, reduce the need for artificial lighting, and even cut down on electricity costs. However, relying solely on natural light isn't feasible. Here's where artificial lighting steps in:
Mimicking Natural Light: With advancements in technology, many artificial lights, especially LEDs, can mimic natural light. This is measured in terms of color temperature. For instance, a color temperature of around 4000K to 4500K is considered neutral and closely resembles natural daylight.
Benefits of Natural Light:
Health Benefits: Natural light helps the body produce vitamin D, essential for bone health and mood regulation.

Mood Enhancement: Exposure to natural light can reduce mood disorders and depression, leading to a more positive work environment.

Energy Savings: Utilizing natural light can reduce the need for artificial lighting, leading to energy savings.
Energy Efficiency and Sustainability in Office Lighting
As businesses become more environmentally conscious, the focus on energy efficiency and sustainability has intensified:
LEDs and Energy Efficiency: As mentioned earlier, LEDs are at the forefront of energy-efficient lighting solutions. They consume less power and last longer, making them a sustainable choice.

Motion-censored Lights: These lights turn on/off based on motion, ensuring that electricity isn't wasted in unoccupied spaces.

Dimmers: Dimmers allow control over the light's intensity, ensuring that just the right amount of light is used, promoting energy efficiency.
Choosing and implementing office lighting might seem like a daunting task, but with the right knowledge and approach, it can be streamlined. Prioritize energy efficiency, consider the office layout, and most importantly, ensure the well-being and comfort of the employees. With these in mind, you'll be well on your way to creating a well-lit, productive, and harmonious office environment.
Types of Lighting Fixtures:
Overhead Lights: These are the primary source of illumination in most offices. However, they should be supplemented with other types of lighting to avoid issues like glare and shadows.

Task Lighting: These are specific lights designed for tasks that require focused lighting, such as reading or writing. Gooseneck lamps are a popular choice for task lighting as they can be adjusted to cast light precisely where it's needed.

Indirect Lighting: Instead of shining light directly onto a workspace, indirect lighting reflects light off walls or ceilings. This type of lighting reduces eye strain and can prevent headaches. Side lamps are a good example of indirect lighting.

Natural Light: While not a fixture, incorporating natural light through windows or skylights can significantly improve the lighting quality in an office.
Room-Specific Office Lighting Design Guide
Office lighting plays a pivotal role in enhancing productivity, ensuring safety, and creating a conducive work atmosphere. Different rooms and areas within an office require specialized lighting solutions to cater to their specific needs. This guide delves deep into the nuances of lighting various spaces within an office, ensuring that every corner is optimally illuminated.
Entrance and Reception Lighting
The entrance sets the tone for the entire office. It should offer a dramatic yet soothing effect with impactful lighting. Downlights are perfect for accent lighting and glare control. Pendant lights can also be considered to enhance the ambiance and make the entrance welcoming.
Corridor and Stairway Lighting
Corridors and stairways are often overlooked, but they are essential for safety. Balanced lighting ensures that these areas are neither too bright nor too dim. Ceiling or wall-mounted lights, along with recessed lights, are ideal. Strip lighting along floors or walls can serve as a guide, ensuring that people can navigate these spaces safely. Additionally, utilizing led strip lights for stairs can not only enhance safety by providing clear visibility but also add a modern and elegant aesthetic to the stairway areas within an office space.
Lighting in Open Plan Workspace
Open plan workspaces are where most of the brainstorming and collaboration happens. High illuminance is crucial to maintain a positive and energetic atmosphere. Daylight harvesting techniques can be employed to make the most of natural light. Recessed ceiling-mounted lights ensure homogeneous lighting, and the addition of spotlights or downlights can prevent any dark spots, ensuring an evenly lit workspace.
Desk and Task Lighting
Every individual workstation or desk requires specialized lighting. Desk lamps should provide both direct and indirect lighting to reduce glare and shadows. It's essential to ensure that task lights are positioned in a way that they don't cast shadows, especially while writing or reading.
Executive Office Lighting
An executive office is not just a workspace; it's a statement. High illumination combined with accent lights focusing on special areas or artworks can create an elegant space. Smart light controls can be employed to adjust the lighting based on the time of the day or the task at hand. Suspended luminaires and track lights can be used for accent lighting, adding a touch of sophistication.
Meeting Room Lighting
Meeting rooms are where ideas are shared and decisions are made. A combination of warm and cool light can balance the atmosphere, making it conducive for discussions. Accent and ambient lights should work in tandem to give the meeting room an aesthetic appeal.
Kitchen Area Lighting
The office kitchen is not just a place to cook; it's a place to relax and take a break. Sharp and shadow-free lighting is essential above cooking counters. However, the serving island or the dining area can have warm lighting to create a cozy atmosphere.
Communal Space Lighting
Communal spaces are meant for relaxation and informal discussions. Dimmable lights and tabletop lights can establish a relaxed atmosphere. It's also essential to ensure that these spaces have a good amount of natural light, which can help reduce stress and create a calming environment.
Additional Insights
Layered Lighting Plan: It's vital to create a lighting plan that combines ambient, task, and accent lighting. This ensures focus, productivity, and a balanced workspace.

Control Glare and Shadows: Positioning of lights is crucial. For instance, a light source behind your computer screen will create glare. Consider lampshades and upward-facing floor lamps that bounce light off walls and ceilings to prevent this.

Video Conferencing Lighting: With the rise of virtual meetings, it's essential to have proper lighting for video calls. Natural light sources should be in front of you, and if using studio lighting, the key light should be above and to the side.

Health Considerations: Blue light emitted by electronic screens can interfere with the body's natural circadian rhythms and cause symptoms like fatigue and eyestrain. It's essential to integrate natural light and fresh air into your workspace as much as possible.
Adhering to Lighting Standards and Regulations
Lighting plays a pivotal role in creating a conducive work environment. Adhering to lighting standards and regulations, such as SS 531:2008 (2016) from the Singapore Standards Council, ensures that office spaces are illuminated optimally to enhance productivity, safety, and well-being.
Understanding and Implementing SS 531 Lighting Standards
The SS 531 standard is designed with specific objectives in mind. It aims to improve concentration, safety, and productivity in the workplace. Furthermore, it promotes the well-being and health of employees, supports the healing process in healthcare facilities, and addresses issues arising from irregular work hours. Implementing these standards in office lighting design is crucial. They provide a framework that ensures the lighting is not just functional but also contributes positively to the overall work environment.
Recommended Lighting Levels and Basic Computation for Lighting Fixture Levels
When designing office lighting, it's essential to consider various factors to determine the number of lighting fixtures needed. These factors include room size, color scheme, type of work, and even the age of workers. For instance, an open-plan office might require different lighting compared to a conference room or a reception area.
Ohter insights:
Lighting is a key component of any office design. Different types of lighting can significantly impact everything from our mood to our productivity. For instance, a study by the University of Toronto and Northwestern University found that participants' emotions, both positive and negative, were felt more intensely under brighter lighting. This can even affect decision-making processes.

Specific lighting configurations can help optimize every area in the office. For example, the reception area, which sets the tone for the rest of the office, can use lighting to create a welcoming atmosphere. Up lights and downlights can be used to highlight branding and corporate messages, and features such as pendant lighting can help create zones for waiting or refreshment areas.

Task lighting allows employees to personalize their light levels, enhancing their work experience. Fully adjustable desk lights are ideal as they can be angled to shine on the right place, depending on individual needs. Natural light is particularly crucial in creative areas as it has been proven to increase creativity, improve mood, and reduce stress.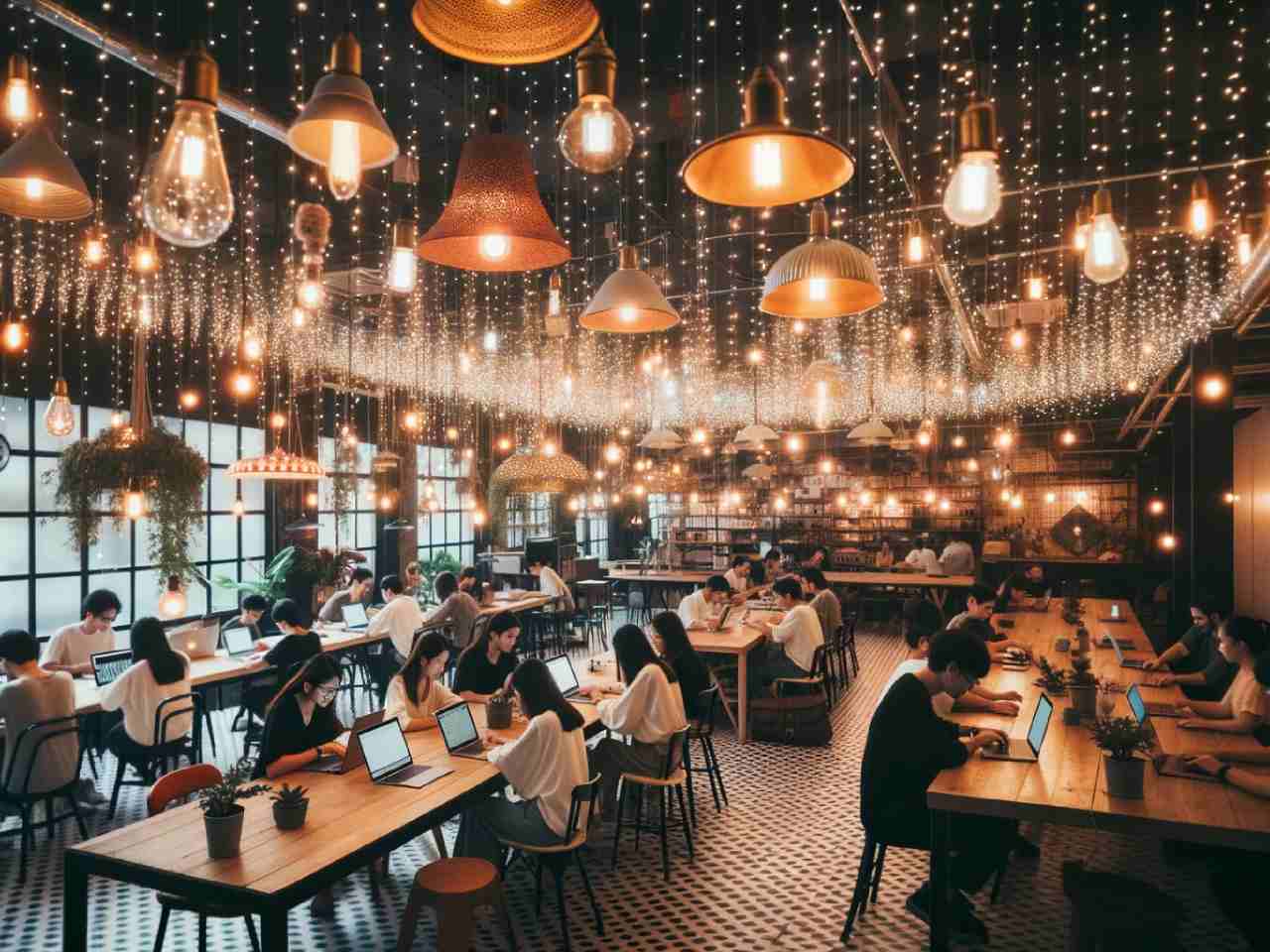 Case Studies and Real-world Applications
Office lighting plays a pivotal role in enhancing employee productivity and well-being. Strategic lighting not only illuminates the workspace but also sets the mood, aids in focus, and can even influence the overall health of employees. Here are some insights gathered from various articles on the subject:
1. The Importance of Layered Lighting:
Ambient Lighting: This is the overall lighting in a space, often supported by natural, bright, soft, diffuse light. It sets the mood for the room and can be adjusted artificially with decorative ceiling lights, overhead lights, or wall sconces.
Task Lighting: Focused, directional, yet soft lighting that defines specific workspaces. It allows for work during late hours without disturbing others. Desk or floor lamps that provide diffuse, soft light are ideal.
Accent Lighting: Adds visual interest by highlighting specific areas or objects in a room. Spotlights, recessed, picture, or string lights can be used for this purpose.
Layering these types of lighting in an office can create a balanced and functional space that bolsters productivity. For instance, LED strip lights can be subtly placed under cupboards or within bookshelves to infuse personality into the space source. Additionally, incorporating led panel lights into your office lighting design can offer a sleek and modern aesthetic while providing uniform, energy-efficient illumination suitable for various workspaces. Additionally, implementing led linear lighting in office spaces, particularly in elongated areas or over workstations, can provide consistent, glare-free illumination that is both functional and aesthetically pleasing. Investing in a high-quality led profile can significantly enhance the durability and performance of your LED strip lights, ensuring uniform light diffusion and protecting the strips from dust and damage.
2. Bulb Selection for Office Lighting:
Incandescent bulbs: Standard and affordable but not energy-efficient.
Fluorescent bulbs: More efficient but can produce harsh light.
LED bulbs: Highly efficient and versatile, capable of producing a wide range of colors and temperatures. They are slightly more expensive but are recommended for office spaces due to their efficiency and versatility. Additionally, considering led tube lights for office spaces can be a wise choice due to their energy efficiency, longevity, and ability to provide uniform lighting across larger spaces, ensuring an adequately lit working environment.
3. Color Temperature:
The color temperature of a light source affects the ambiance of the space. High color temperatures (cool white or blue light) can brighten the environment but may feel harsh. In contrast, low color temperatures (warm white or yellow light) create a cozy atmosphere. For tasks like computer work, a cool white light is recommended, while reading or relaxing might benefit from a warm white or yellow light. For instance, using led light strips for bedroom applications can create a warm and inviting ambiance, providing gentle illumination that can be both functional and mood-enhancing.
4. Lighting for Video Conferences:
Proper lighting is crucial for video conferences. Natural light is ideal, but if using studio lighting, the key light should be placed above and to the side. For those frequently engaging in video calls, investing in good quality microphones and sound dampening is advised. Additionally, mixing lights with different color temperatures should be done cautiously to avoid color imbalances on the video screen.
5. Health Implications of Office Lighting:
Lighting can significantly impact health. Blue light, emitted by electronic screens and some light bulbs, can interfere with the body's natural circadian rhythms and cause symptoms like fatigue and eyestrain. To mitigate these effects, consider using light bulbs with low color temperatures, blue light filters on screens, and integrating as much natural light as possible into the workspace.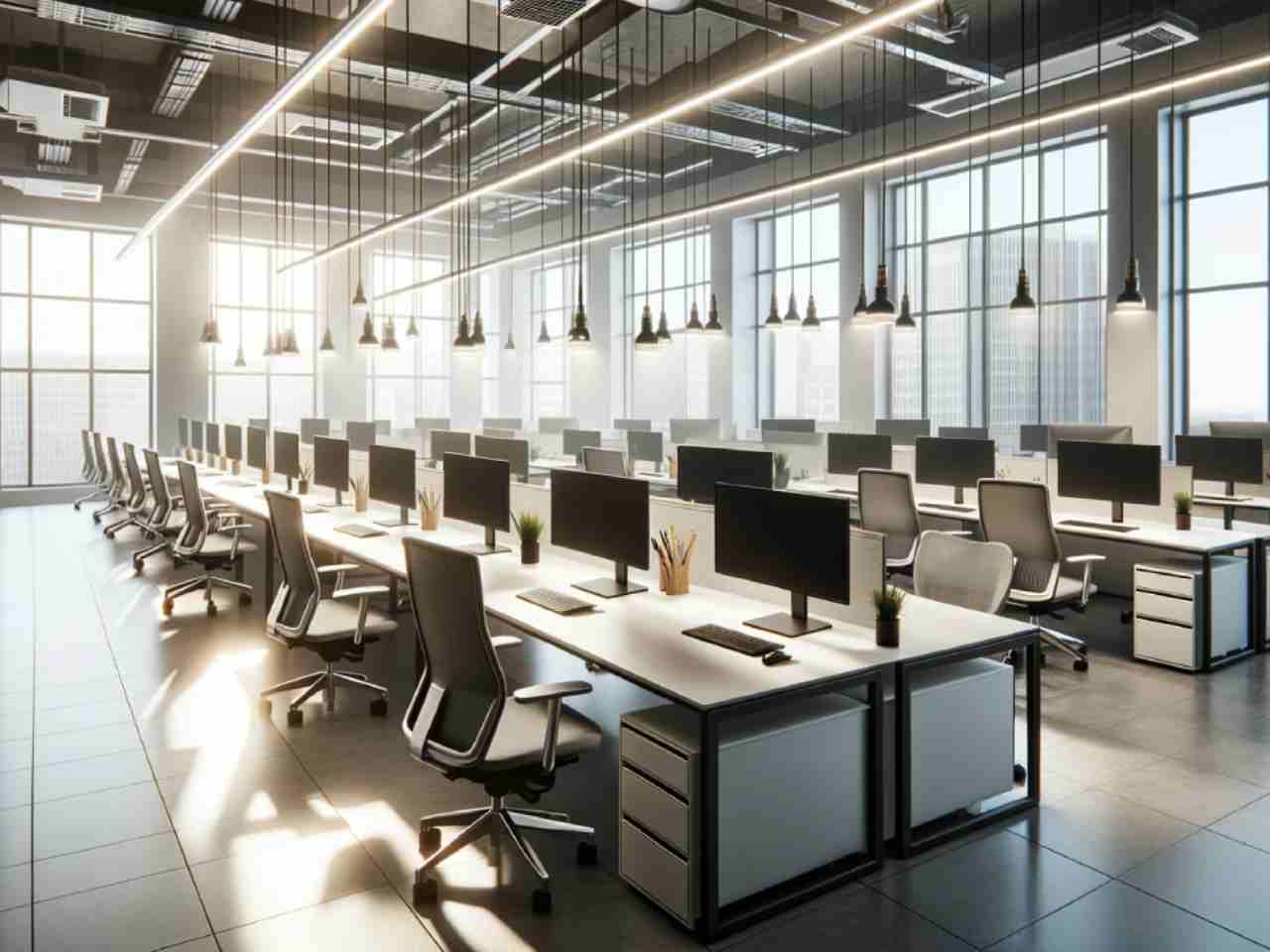 Conclusion
Office lighting is not merely a matter of illuminating a workspace but a strategic element that significantly impacts productivity, creativity, and the overall well-being of the employees. The pivotal role of lighting in creating a conducive work environment, emphasizing various aspects such as the ergonomics of lighting, the impact of lighting design on productivity, and the importance of utilizing natural light. Additionally, integrating a spot lighting bar within the workspace can spotlight specific areas, providing focused illumination that is particularly beneficial for task-oriented activities like reading or writing.