Welcome to the world of illuminated living spaces with cutting-edge LED lighting solutions for your living room. LED lights have emerged as the top choice for illuminating living rooms, combining energy efficiency, long-lasting performance, and the ability to emit a brilliant and uniform light. As the demand for sustainable and stylish home lighting grows, LED ceiling lights for living rooms have gained remarkable prominence. These dynamic fixtures not only brighten your space but also offer a modern touch that effortlessly blends with various interior designs. Whether you're seeking a cozy ambiance or a vibrant atmosphere, LED lights for the living room cater to diverse preferences. In this article, we delve into the realm of LED living room lights, exploring versatile options such as LED strip lights, ceiling lights, spotlights, and more, all designed to infuse your living area with comfort and sophistication. Join us as we embark on a journey to uncover the remarkable potential of LED lighting in transforming your living room into a luminous haven of relaxation and style.
LED strip lights
Elevate your living room with the modern charm of LED strip lights. These flexible and dynamic lighting solutions offer a world of creative possibilities, allowing you to accentuate architectural details, set the perfect mood, or infuse vibrant splashes of color into your living space. Installation is a breeze, as these versatile strips can be effortlessly mounted beneath shelves, cabinets, or around the room's perimeter using sleek LED aluminum profiles that ensure durability and a clean linear look. By incorporating LED strip lights, you're not only adding a touch of elegance and style to your living area but also enhancing its functionality. With a touch of ingenuity and thoughtful planning, your living room can transform into a haven that effortlessly combines aesthetics and practicality. Whether you're searching for ways to add a cozy ambiance or a striking visual impact, LED strip lights are here to illuminate your ideas.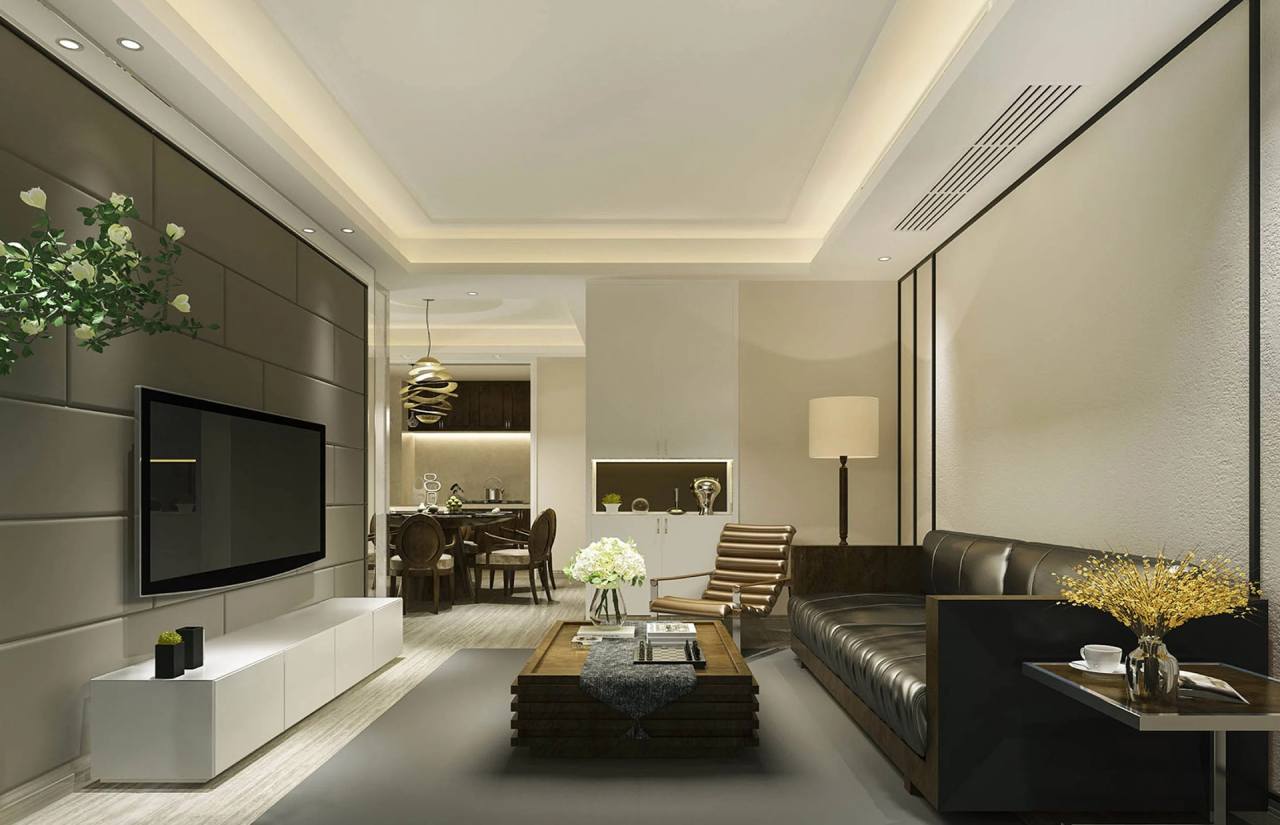 LED Light Controllers
Transform your space into a haven of personalized illumination using state-of-the-art smart LED strip lighting technology. Effortlessly adjust brightness, color, and mood via your smartphone or tablet, instantaneously tailoring the lighting to complement any occasion. Whether crafting a romantic dining setting or fashioning a dynamic party atmosphere, LED strip lights empower you to manifest your envisioned ambiance.
By seamlessly integrating these smart controllers with LED ceiling lights for the living room, you unlock a realm of versatility and creativity. The interplay of modern LED ceiling lights for living room spaces allows you to curate a refined yet inviting environment. Employ LED wall lights for living room scenarios, orchestrating a symphony of lighting effects that align with your unique preferences. Illuminate your living space with LED lights for living room ceilings, redefining the very essence of sophistication and modernity.
Discover the synergy between form and function through LED lighting solutions. Crafted with precision, LED strip profiles and aluminum profiles guarantee seamless integration while augmenting aesthetics. Embrace the captivating allure of linear pendant lights, effortlessly suspended to redefine spatial dynamics. LED panel lights harmonize with your living room's aesthetics while providing a luminous embrace.
Beyond the realm of aesthetics, LED lighting delivers practicality through its diverse range. From efficient LED downlights and spotlights to versatile track lighting and tube lights, the options are boundless. Experience enhanced visibility with LED spotlights and downlights, casting the perfect spotlight on key areas. Channel productivity with LED tube lights, delivering optimal brightness for work and relaxation alike.
Navigating the array of LED lighting choices can be daunting, but with the right guidance, you can craft an atmosphere that resonates with your unique lifestyle. Explore the world of LED lighting to illuminate your living room with a touch of brilliance, enhancing every moment with a splash of radiance.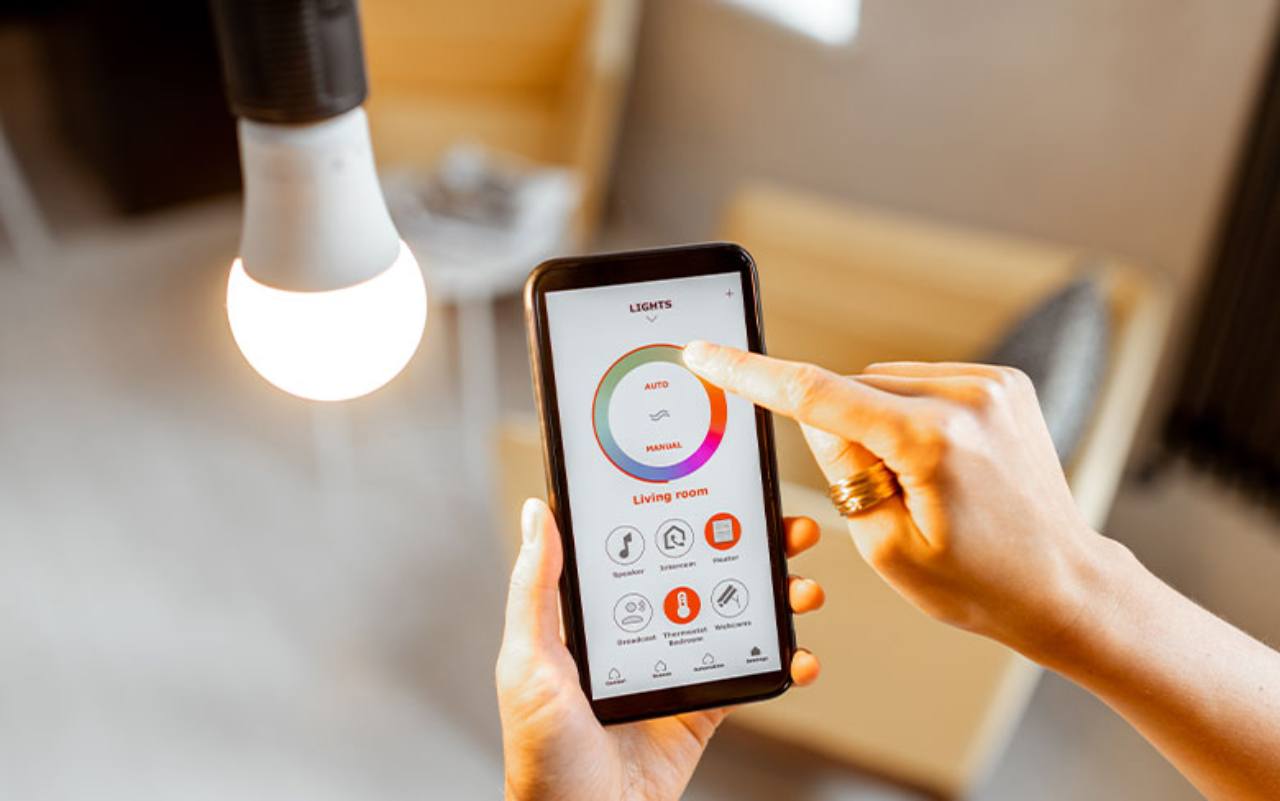 LED pendant lights
These exquisite luminaires, paired with sleek LED bulbs, bestow a touch of modern sophistication to your space. Adorned in an array of captivating designs, these LED pendant lights can be suspended at varying heights, crafting a nuanced layering of light that imparts depth and visual interest. The true hallmark of LED pendant lights lies in their remarkable energy efficiency. In contrast to conventional incandescent bulbs, LED counterparts consume up to 75% less energy while boasting a significantly extended lifespan. This dual advantage not only translates to reduced energy bills but also diminishes the frequency of bulb replacements. Through their innovative design and cutting-edge LED technology, these pendant lights stand as a testament to the synergy between aesthetic appeal and sustainability.

LED recessed lighting
Upgrade your living room with the modern allure of LED recessed lighting. These ingenious fixtures seamlessly blend functionality and aesthetics, offering a sleek and unobtrusive way to illuminate your living space. Whether you're aiming for a cozy ambiance or an open and well-lit environment, LED recessed lighting is the solution you've been seeking. These lights are not only energy-efficient but also exceptionally durable, ensuring a long-lasting investment that saves you money in the long run.
Unlike traditional lighting options, LED recessed lights can be installed in various styles, such as downlights and recessed LED track lighting. The adjustable design empowers you to direct the light precisely where you need it, enabling you to create the perfect atmosphere for any occasion. Its versatility knows no bounds – suitable for any room, whether it's your living room, kitchen, or bedroom. The modern LED technology infuses your living space with brilliant illumination while maintaining an energy-efficient edge.
Discover the elegance of Plaster In LED profile lighting, a contemporary choice that combines functionality with aesthetics. This innovative approach seamlessly integrates lighting into your walls or ceiling, resulting in a smooth, refined appearance that complements any interior design. The integration of LED technology ensures not only energy efficiency but also exceptional performance over time.
Elevate your living room with the latest in LED lighting technology. Experience the transformative power of LED ceiling lights for your living room, elevating your space with both illumination and style. Embrace the future of lighting with LED living room lights, offering a modern touch that enhances the ambiance and energy efficiency of your home. Explore the possibilities of LED lighting – from strip lights to linear pendant lights – and create a welcoming atmosphere that caters to your every need.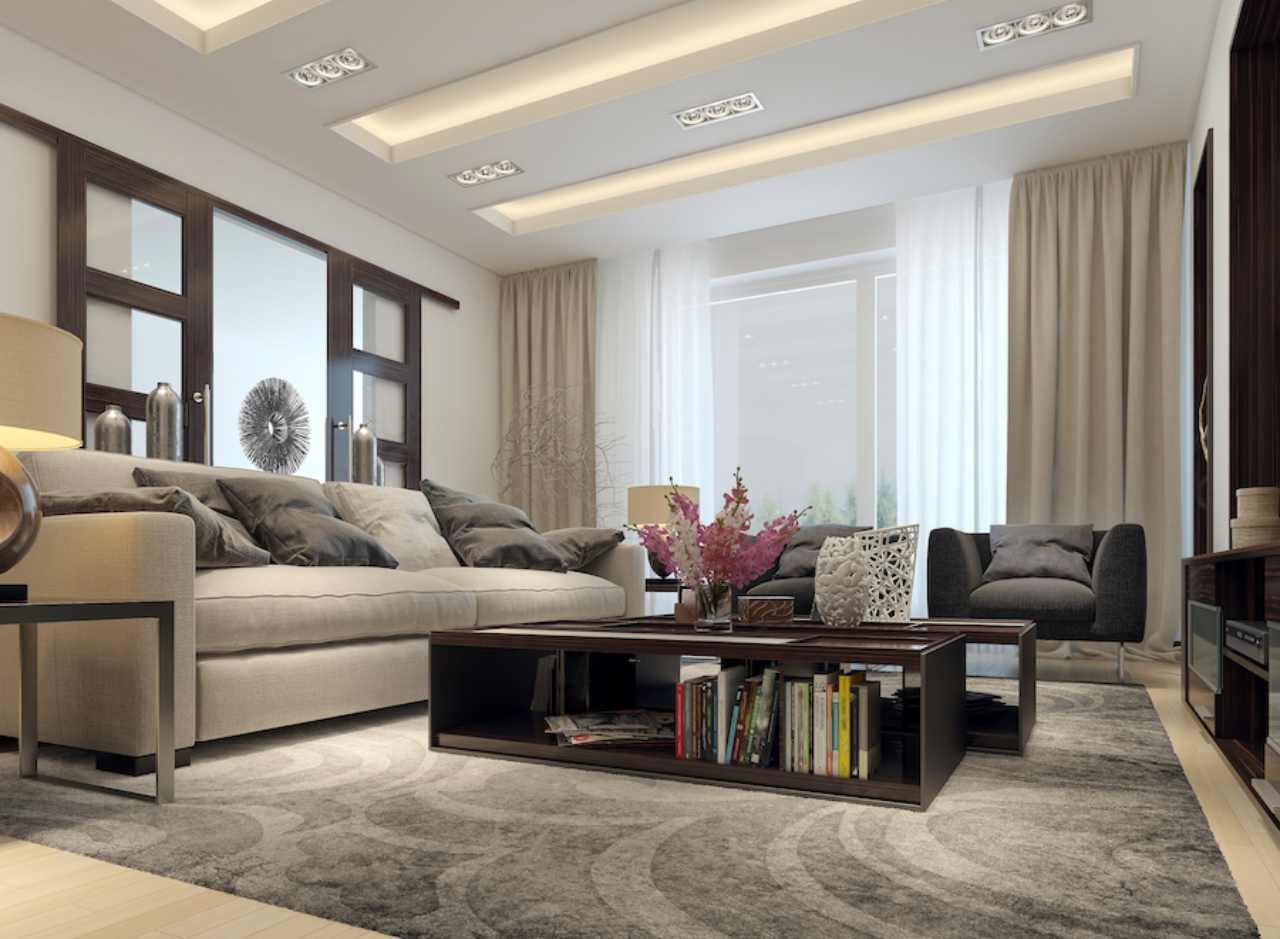 Aluminium LED Profiles
Elevate your living room ambiance with Aluminium LED Profiles, the contemporary solution for integrating LED strip lights seamlessly. Designed to elevate both style and functionality, these sleek aluminium channels bring a polished finish while safeguarding your LED strips against dust and damage. Beyond their aesthetic appeal, these profiles offer a host of practical advantages. Efficient heat dispersion prolongs the lifespan of your LED strips, while the potential for tailored lighting effects, achieved by diffusing or guiding light precisely, opens the door to creative design possibilities.
What sets Aluminium LED Profiles apart is their versatility, available in an array of styles and sizes to harmonize with any decor. Effortless mounting, thanks to compatible hardware, lets you affix them to walls, ceilings, or various surfaces, enhancing your living space with elegance and innovation.
As the demand for modern LED ceiling lights for living rooms surges, these LED profiles step in as an essential element. They embody the essence of LED lights for the living room, enhancing its character with subtle luminosity. Within the realm of LED lighting, these profiles stand out as crucial components – LED strip profiles, LED aluminium profiles, and linear lights all rolled into one.
To further cater to your needs, explore the full spectrum of LED lighting – from LED panel lights to versatile ceiling lights, spotlights, and even tube lights. Unleash your creativity with LED linear pendant lights or embrace energy-efficient choices like LED downlights. Whether you're aiming to illuminate your living space with a warm glow or need focused brightness for specific tasks, these lighting solutions cater to your preferences.
Join the LED revolution that's sweeping across the UK, revolutionizing living room spaces with modernity and energy efficiency. Say goodbye to outdated lighting systems and welcome a future where ambiance meets practicality, all thanks to Aluminium LED Profiles and their remarkable impact on LED living room lights.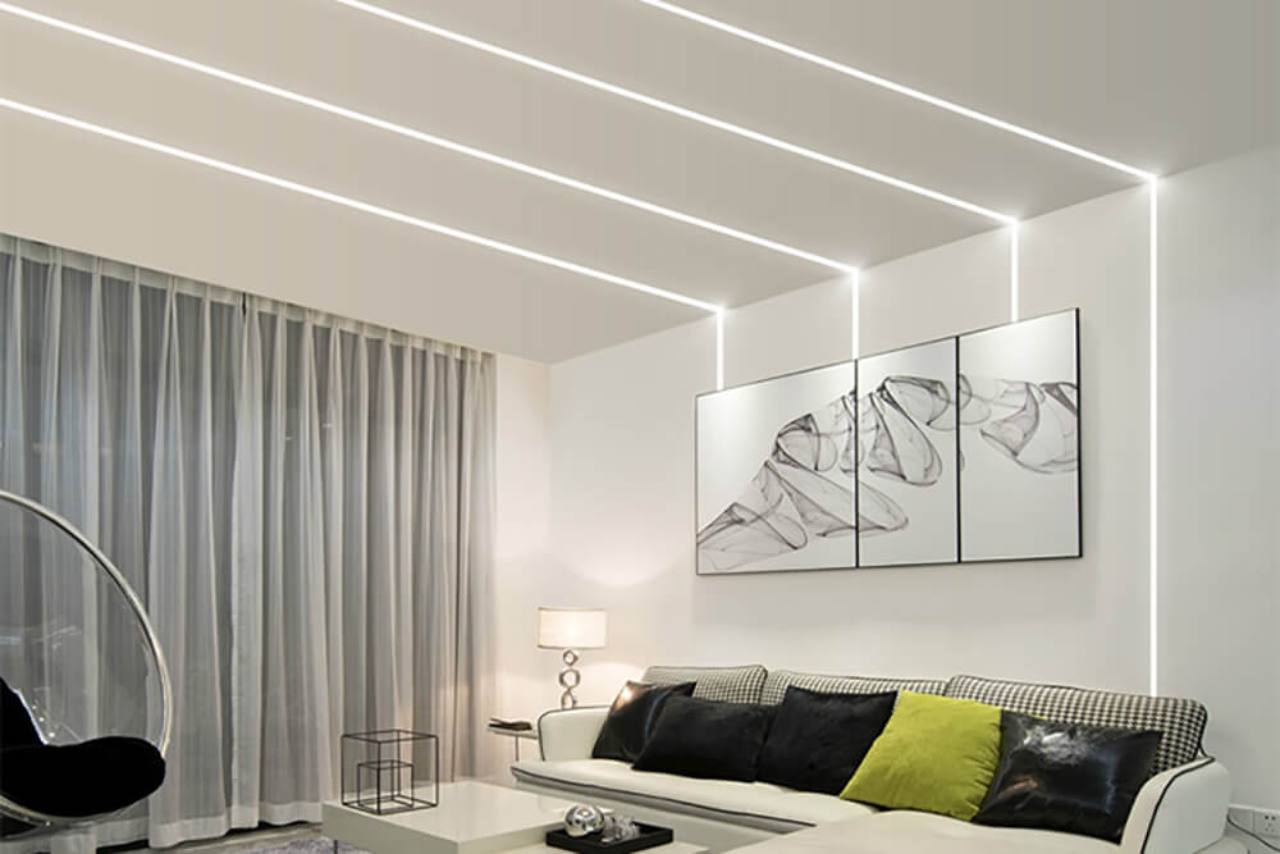 Conclusion
In conclusion, welcome to a realm where innovation and illumination converge, transforming your living spaces with cutting-edge LED lighting solutions. LED lights have swiftly risen to prominence as the quintessential choice for enlivening living rooms, uniting energy efficiency, enduring performance, and a radiance that remains consistently brilliant and uniform. As the call for sustainable and stylish home lighting resonates, LED ceiling lights for living rooms have taken center stage, radiating a contemporary allure that effortlessly merges with diverse interior designs.
Within this article, we've embarked on a journey into the universe of LED living room lights, unraveling an array of versatile options that range from LED strip lights to ceiling lights and spotlights. These luminous wonders infuse your living space with both comfort and sophistication, granting you the power to create a haven of relaxation and style. The allure of LED strip lights lies in their modern charm, transforming your living room into an artistic canvas where you can play with accents, moods, and colors. These flexible strips, when combined with sleek LED aluminum profiles, elevate aesthetics and functionality in unison.
Smart LED light controllers usher in an era of personalized illumination, allowing you to tailor brightness and ambiance via your smartphone. The marriage of these controllers with LED ceiling lights for the living room opens avenues of creativity, enabling you to orchestrate a symphony of lighting effects. From linear pendant lights to LED panel lights, the synergy between form and function emerges, offering an exquisite harmony that complements your living room's aesthetics.
Dive into the ocean of LED lighting options, embracing LED pendant lights for a touch of modern sophistication and LED recessed lighting for a sleek upgrade that unifies functionality and aesthetics. The future is illuminated by Plaster In LED profile lighting, a fusion of style and energy efficiency.
In the realm of LED lighting, Aluminium LED Profiles stand tall as transformative elements, integrating seamlessly to elevate your living room ambiance. As the demand for modern LED ceiling lights for living rooms surges, these profiles emerge as essential components, redefining the essence of LED living room lights.
Amidst this LED revolution sweeping the UK, outdated lighting systems fade into the past, making way for a future where ambiance and practicality intertwine harmoniously. Embrace this evolution, for LED lighting is not just an upgrade—it's a testament to a brighter, more efficient, and sophisticated living experience.