Illuminating your staircase with lights not only enhances safety but also elevates the aesthetic of your home. This article is a beacon for those grappling with the how-tos of stair lighting, offering solutions to common difficulties and answering pivotal questions. Whether you're seeking to create a festive ambiance or a serene glow, the insights here will guide you through selecting the right lights, understanding their benefits, and executing a flawless installation. Expect a comprehensive walkthrough, from preparation to the final touches, ensuring your stairway shines brilliantly.
Choosing the Right Lights for Your Staircase
When selecting the right lighting for your staircase, it's essential to consider various factors such as energy efficiency, durability, and the ambiance you want to create. Staircase lighting not only serves a functional purpose but also enhances the aesthetic appeal of your home. Here's what you need to know:
Types of Lights
There are several types of lights that can be suitable for staircases:
LED Strips: LED strips are a popular choice for staircases due to their flexibility and efficiency. They can be easily installed along the edges or underneath the steps to provide a modern look. According to a study on building energy efficiency, LED lighting significantly reduces energy consumption, making it a cost-effective and environmentally friendly option.
Fairy Lights: For a whimsical or softer ambiance, fairy lights can be draped along the railing or the wall adjacent to the staircase. While they may not be as energy-efficient as LED options, they offer a unique style that can be perfect for creating a cozy atmosphere.
Rope Lights: Rope lights are similar to LED strips but are encased in a clear, flexible plastic tube. They are durable and can withstand some degree of wear and tear, making them suitable for high-traffic staircases.
Energy Efficiency and Durability
Choosing energy-efficient and durable lights is crucial for long-term use. Energy-efficient lights, like LEDs, not only help in reducing the carbon footprint but also lower electricity bills. Durability is equally important to avoid frequent replacements. The literature on energy efficiency in civil buildings suggests that selecting lights with a high energy star rating can lead to substantial savings and contribute to the sustainability of the project.
Light Color and Brightness
The color and brightness of the lights play a significant role in setting the mood. Warmer colors can create a welcoming and intimate environment, while cooler colors tend to provide a more alert and brighter ambiance. The brightness level should be sufficient to ensure safety while navigating the stairs without being overwhelmingly bright.
Safety and Efficiency
Safety certifications, such as UL listing or Energy Star rating, are indicators of quality and safety. These certifications ensure that the lighting products have been tested and meet specific safety standards. Furthermore, a study on data-driven building energy consumption prediction emphasizes the importance of lighting energy consumption in overall building efficiency. Therefore, opting for lights with low energy consumption is beneficial for both safety and efficiency.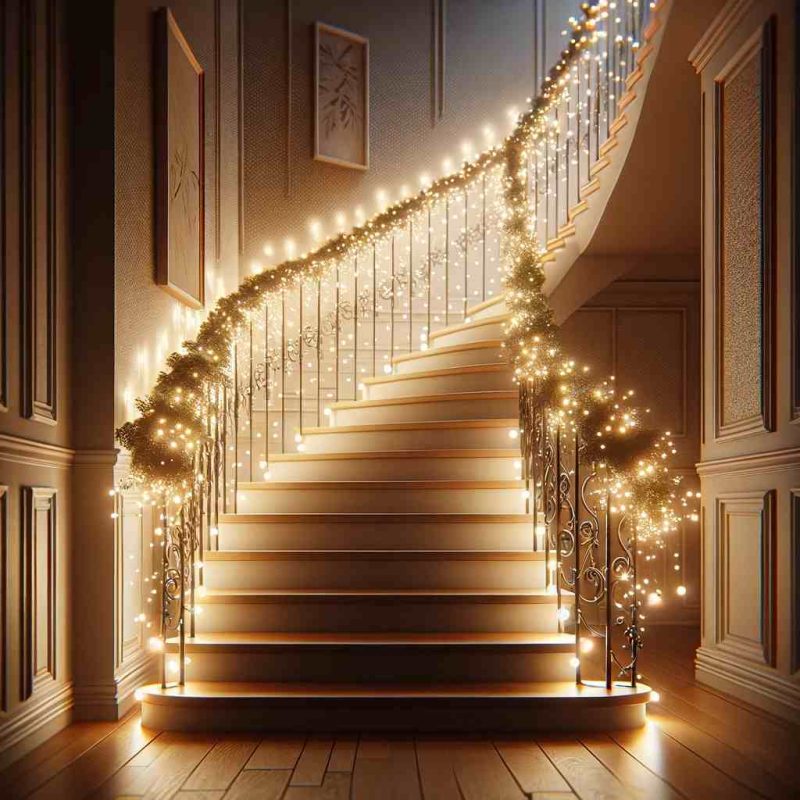 Preparing Your Staircase for Installation
Before you begin wrapping lights around your staircase, it's crucial to prepare the area to ensure a safe and efficient installation. Here's a comprehensive guide to get your staircase ready for a festive makeover.
Importance of Cleaning and Preparing the Surface
A clean surface is essential for the lights to adhere properly and for the installation to look its best. Dust, dirt, and grease can prevent adhesive clips from sticking, which could cause the lights to sag or fall. Moreover, a clean staircase ensures that the lights will shine brightly, without being dulled by underlying grime.
Safety Considerations
Safety should be your top priority. According to the Consumer Product Safety Commission, there are an average of about 160 decorating-related injuries each day during the holiday season, with almost half involving falls. To avoid accidents:
Ensure the staircase is dry and free of obstacles.
Use a sturdy ladder or step stool rather than leaning or reaching from the stairs themselves.
If you're working with electrical lights, make sure they are unplugged while setting up.
Consider wearing gloves to protect your hands from sharp edges of the light strings.
Tools and Materials Needed
For a smooth installation, gather all necessary tools and materials beforehand. You'll need:
Cleaning supplies (e.g., broom, vacuum, all-purpose cleaner)
Adhesive clips or hooks specifically designed for light strings
Measuring tape to determine the length of the light strings needed
Light strings, ensuring they are suitable for the intended use (indoor or outdoor)
Extension cords if power sources are not within reach
A ladder or step stool for high areas
Cleaning and Clearing the Area
Step-by-Step Guide on Preparing the Staircase
Sweep and Vacuum: Begin by sweeping the stairs to remove any loose dirt. Follow up with a vacuum to pick up finer particles, especially in the corners and edges.
Wash the Surface: Use an all-purpose cleaner and a damp cloth to wipe down the surfaces where the lights will be attached. Allow the area to dry completely.
Measure the Area: Use a measuring tape to determine the length of the staircase and calculate the amount of light string needed.
Check the Lights: Before installation, lay out the light strings and check for any damaged bulbs or wires.
Tips on Ensuring the Area is Safe for Work
Clear the Space: Remove any furniture or decor that might obstruct your movement or pose a tripping hazard.
Secure Loose Rugs or Mats: These can slip underfoot, so either remove them or secure them with non-slip pads.
Light Your Work Area: Ensure adequate lighting to see what you're doing, which can prevent missteps and falls.
Tools and Materials Checklist
Comprehensive List of All Necessary Items
Light strings
Adhesive clips or hooks
Extension cords
Ladder or step stool
Measuring tape
Cleaning supplies
Gloves for protection
Replacement bulbs
Suggestions for High-Quality Materials and Where to Find Them
For high-quality light strings and installation materials, consider visiting hardware stores or specialty lighting shops. They often carry a wide range of products suitable for various installation needs, from weather-resistant outdoor lights to delicate indoor fairy lights.
By following these guidelines, you can prepare your staircase for a beautiful and safe light installation that will enhance the ambiance of your space during the festive season or any special occasion.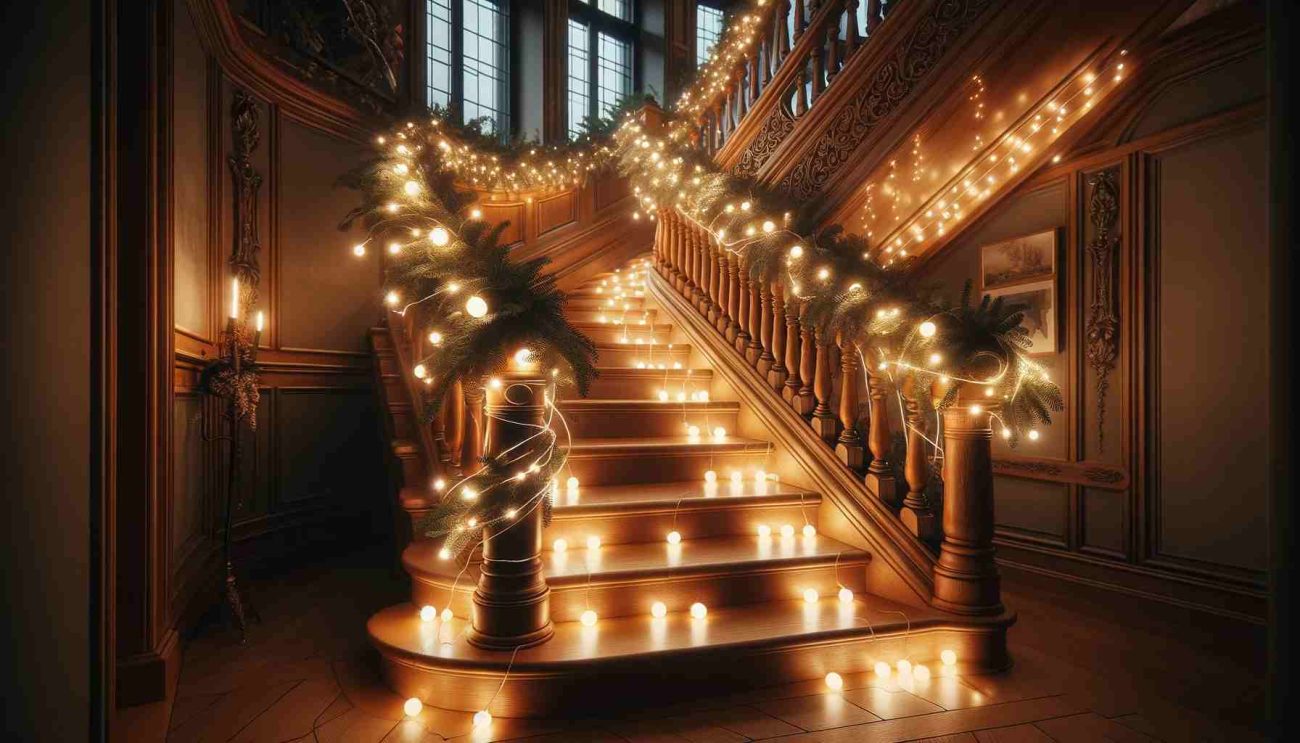 Step-by-Step Guide to Wrapping Your Stairs with Lights
Wrapping your stairs with lights can transform your space into a magical and inviting area. Here's a step-by-step guide to help you achieve this enchanting look safely and effectively.
1. Planning Your Design
Before you begin, it's crucial to plan your design. Decide whether you want a subtle glow or a bright, festive look. For a balanced design, consider using about 200 LED bulbs for an average staircase. LEDs are recommended for their energy efficiency and cool operation, making them safe to touch and leave on for extended periods.
2. Measuring Your Staircase
Measure the length of your staircase, including the handrail and any additional areas you wish to cover with lights. This will determine the length of the light string you'll need. For an average staircase, two sets of 8-meter indoor fairy lights with 100 bulbs per string are often sufficient.
3. Selecting Your Lights
Choose lights with a clear cable to blend in with your decor, or select colored lights for a bold statement. Warm white LEDs are perfect for a cozy atmosphere, while ice white LEDs suit modern interiors. If there's no power socket near your staircase, opt for battery-operated fairy lights or those with a generous lead cable.
4. Attaching the Lights
Start at the power source at the top of the staircase. Run one string of lights down the handrail, securing them with gentle ties that won't damage the surface. For the inner staircase, twine the lights around the banister, ensuring even spacing for a harmonious look.
5. Final Touches
After wrapping the lights around the banister, let the last few bulbs trail along the foot of the bottom step for a cascading effect. Use clips or ties to secure the lights in place, and make sure all cables are neatly tucked away to prevent tripping hazards.
6. Safety Checks
Once everything is in place, perform a safety check. Ensure all lights are securely attached, and there are no loose ends. Check the lights for any electrical faults before turning them on.
7. Enjoy Your Staircase
With everything set up, turn on your lights and enjoy the new ambiance of your staircase. Not only does it add beauty to your home, but it also provides practical, low-energy lighting that can serve as a nightlight.
The key to a successful installation is planning, measuring, and safely securing your lights. With these steps, you can create a stunning visual effect that is both safe and energy-efficient.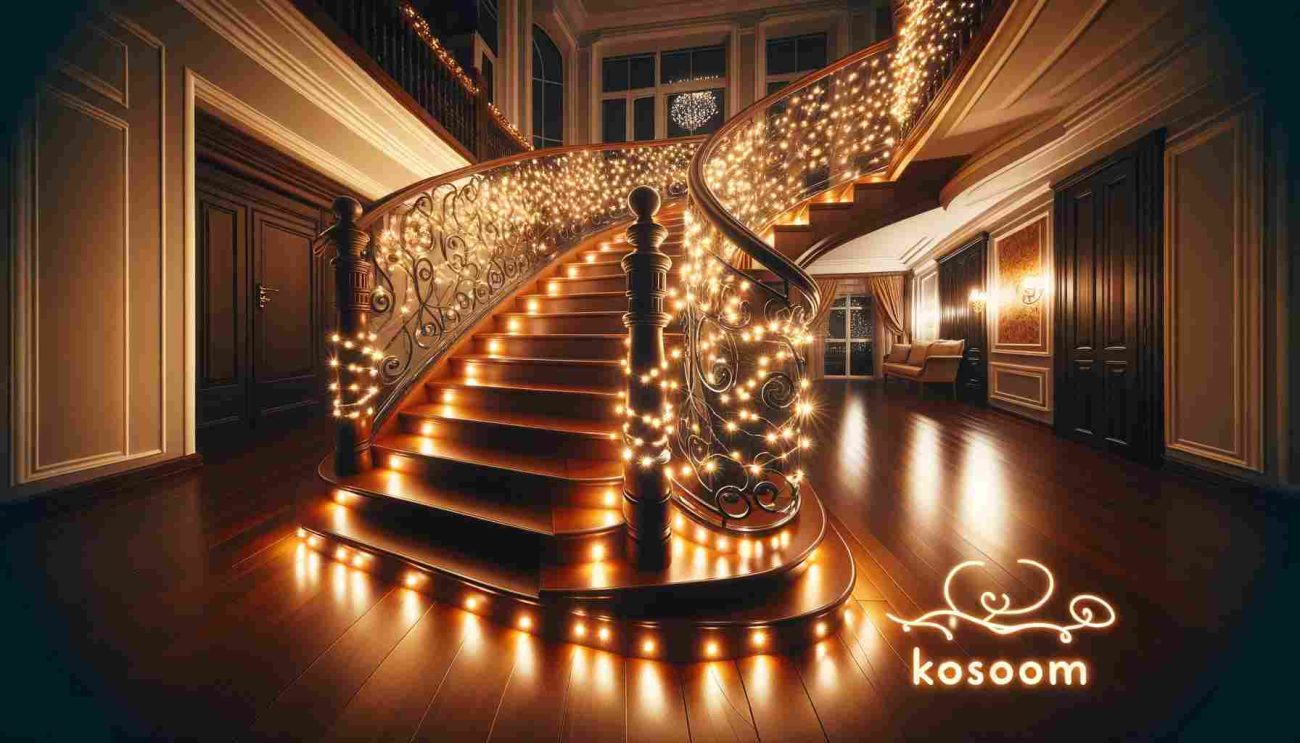 Creative Lighting Ideas for Different Occasions
When it comes to decorating our living spaces, lighting is a transformative element that can alter the mood and ambiance of any occasion. Wrapping lights around stairs not only adds a whimsical touch but also serves as a functional guide in dim conditions. Let's explore how creative lighting can be tailored for various events and everyday elegance.
Holiday Themes
Holidays bring a sense of wonder and festivity that can be amplified with the right lighting. For Christmas, imagine wrapping your staircase in a cascade of warm white LED lights, mimicking the serene glow of a winter's snowfall. Research suggests that the warm tones of light can evoke a sense of comfort and intimacy, perfect for the holiday season (The Effects of Lighting Design on Mood, Attention, and Stress).
During Halloween, orange and purple lights can create an eerie yet inviting path leading to your door, setting the stage for a night of trick-or-treating. The contrast of colors here isn't just for show; studies have shown that color and lighting can significantly impact the perceived atmosphere of a space (Lighting in retail environments: Atmosphere perception in the real world).
Everyday Elegance
Beyond the holidays, lighting can bring a daily dose of elegance to your home. For an everyday look, consider soft, diffused lighting that gently illuminates each step. This not only ensures safety but also creates an inviting ambiance. A study on the effects of lighting on retail impression and identity found that lighting arrangement highly impacts space impression (Effects of color and lighting on retail impression and identity).
Enhancing the Mood for Special Occasions
Special occasions call for special lighting. For instance, a romantic evening can be enhanced with dimmable lights that wrap softly around the stair railing, offering a subdued and intimate atmosphere. The ability to adjust the lighting intensity is crucial as it allows you to set the mood to match the event, whether it's a quiet dinner for two or a lively family gathering.
From personal experience, the key to successful lighting design is layering. Combining ambient, task, and accent lighting can create a dynamic and versatile space. For staircases, this could mean having a base layer of ambient light for functionality, task lighting on the steps for safety, and accent lighting to highlight architectural features or decorations.
Llighting is not just about visibility; it's about creating an experience. Whether it's the joyous spirit of a holiday or the calm of your everyday home life, the way you wrap lights around your stairs can significantly contribute to the atmosphere you wish to cultivate.
Maintenance and Safety Tips for Staircase Lighting
When wrapping lights around stairs, regular maintenance and safety checks are crucial for ensuring both the longevity of your lighting setup and the safety of those who use the stairs. Here are some insights and tips based on comprehensive data and authoritative sources:
Importance of Regular Maintenance
Regular maintenance of staircase lighting is not just about keeping the lights on; it's about ensuring that every step taken is safe and secure. According to a study referenced in ScienceDirect, enhanced lighting on staircases significantly improves safety perception. This is because well-lit stairs reduce the risk of trips and falls, which are among the leading causes of home injury.
Troubleshooting Common Issues
Staircase lights, like any other electrical fixtures, can experience issues such as flickering, burnouts, or sensor malfunctions. Troubleshooting these issues promptly can prevent accidents. For instance, a flickering light could indicate a loose connection, which not only poses a risk of a fall but also a potential fire hazard if left unattended.
Safe Cleaning and Replacement
When it comes to cleaning or replacing staircase lights, safety is paramount. Always ensure that the power is turned off before attempting any maintenance tasks. Use a sturdy ladder that is appropriate for the height you need to reach, and never lean too far to one side to prevent tipping over.
Regular Check-Ups
Routine inspections should be part of your maintenance schedule. Look for signs of wear and tear, such as frayed wires or loose fixtures. Also, keep an eye out for dust accumulation, which can diminish light output and potentially cause overheating.
Keeping Lights Clean and Dust-Free
Keeping your lights clean will not only improve their efficiency but also extend their lifespan. Dust and dirt can cause lights to overheat, leading to a shorter lifespan of the bulbs.
When to Call a Professional
While many lighting issues can be resolved with simple fixes, some problems may require professional attention. If you encounter complex electrical issues or if the lighting system requires extensive repairs, it's best to call a certified electrician.
From personal experience, regular maintenance of staircase lighting is often overlooked, yet it's one of the simplest ways to prevent accidents. A well-lit staircase not only adds to the aesthetic appeal of your home but also ensures that each step is visible and safe to navigate, especially at night or during low-light conditions.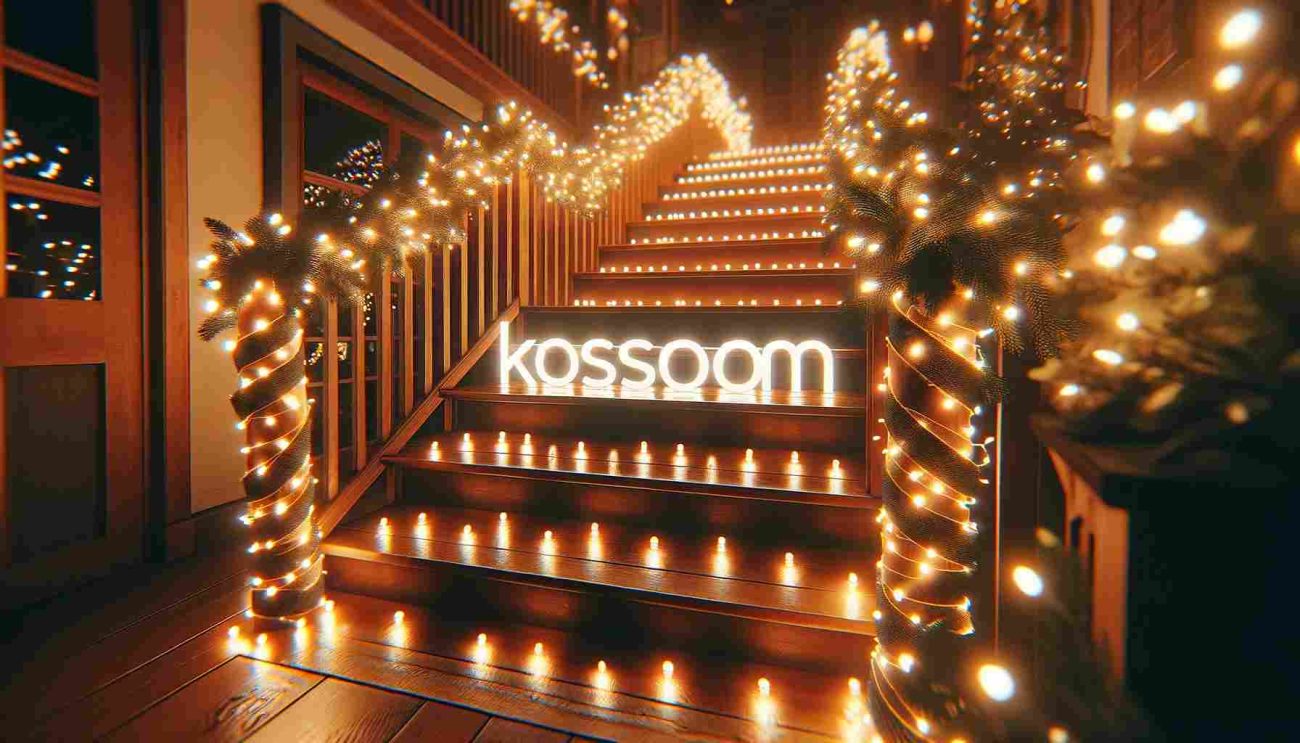 Kosoom's Approach to Staircase Lighting Solutions
When it comes to enhancing your home with LED lights, particularly for wrapping lights around stairs, Kosoom goes above and beyond to ensure that your experience is unparalleled. Here's how Kosoom distinguishes itself from other brands:
Expertise and Experience: Kosoom, with its 20-year focus on the supply chain, brings a wealth of knowledge to the table. This Italian lighting brand specializes in commercial lighting and has honed its expertise to provide you with the best solutions for staircase lighting. Their advice on selecting the right type of LED lights, from strips to fairy and rope lights, is grounded in a deep understanding of product performance and aesthetic appeal.
Cost-Effectiveness Without Compromise: Understanding the importance of energy efficiency and durability, Kosoom offers LED lighting solutions that are not only cost-effective but also of high quality. Their prices, shockingly lower than the market price, do not compromise on the longevity or performance of the products. This means you can wrap your stairs with lights that are both beautiful and economically sensible.
Tailored Solutions and Free Services: Kosoom stands out by providing free lighting solutions, a service for which other brands might charge. Their large-scale offline team in Europe, including supermarkets in Italy, ensures that you receive excellent solutions and after-sales service. Whether you're an electrician or a homeowner, Kosoom's approach is to offer personalized services that cater to your specific needs.
Direct Shipping and Offline Accessibility: With a strong offline presence in Europe and direct shipping from Italy, Kosoom ensures that your orders are fulfilled promptly and efficiently. Their built-in warehouse in Milan and network of subsidiaries across Europe mean that you have access to their products and services without significant wait times or shipping barriers.
Quality Assurance and Warranty: Kosoom's LED lights come with all the necessary European certifications and a 5-year warranty, giving you peace of mind about the safety and quality of your staircase lighting. This commitment to quality assurance means that you can trust the lights to be reliable and compliant with safety standards.
Support for Professionals: For electricians and professionals, Kosoom offers unbeatable deals, like free shipping for orders over 100 euros in Italy and member discounts that feel like a half sale. This support extends to their stock availability, ensuring that commercial products for mainstream applications are readily available and affordable.
Kosoom LED Strip Lights for Stairs
Now that you've been equipped with the knowledge to beautifully wrap your stairs with lights, it's time to bring this enchanting vision to life. We invite you to share your experiences, challenges, or triumphs in the comments below. Your insights could illuminate the path for others embarking on this creative journey. Don't hesitate to spread the glow by sharing this article on social media. And if there's a question we haven't answered or a particular stairway scenario you're curious about, let us know. We're here to help your steps shine safely and stylishly.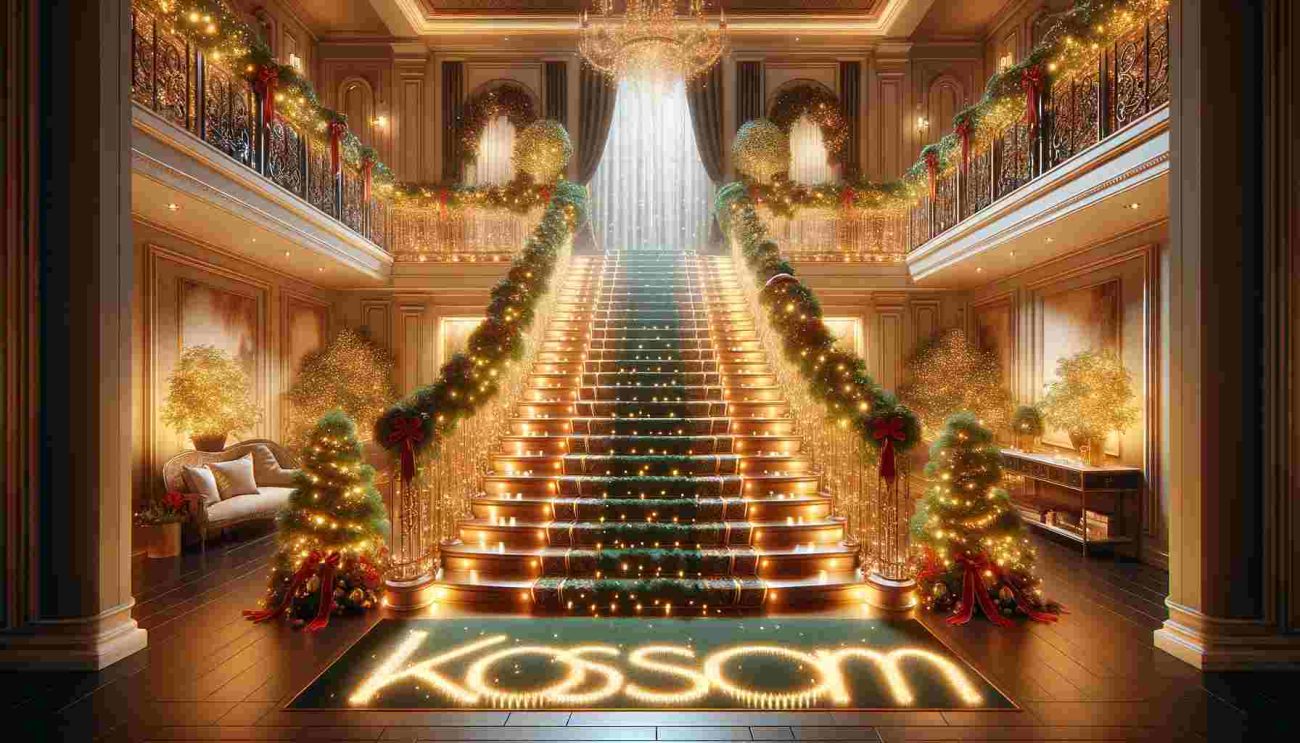 FAQ
How do you wrap lights without tangling?
Step 1: Lay out the lights on a flat surface and untangle any knots before you start wrapping.
Step 2: Use a cable reel or a piece of cardboard to wrap the lights around neatly, ensuring each coil is lying flat against the reel or cardboard.
Step 3: When wrapping, leave enough space between each loop to prevent the wires from crossing over and tangling.
Step 4: Secure the end of the light string with a twist tie or a rubber band to keep it from unraveling.
Step 5: Store the wrapped lights in a cool, dry place, and make sure they are not under any heavy objects that could compress the coils and cause tangling.
How do you attach lights to a railing?
Step 1: Measure the length of the railing to determine how many strands of lights you will need.
Step 2: Use plastic clips made for attaching lights to gutters and railings, which can be found at most hardware stores.
Step 3: Start at one end of the railing and attach the first clip, then clip the lights into place as you move along the railing.
Step 4: Ensure the lights are securely attached and the wires are not too tight or too loose, which could cause sagging or tension.
Step 5: Plug the lights into an outdoor extension cord, and secure any excess cord to prevent tripping hazards.
How do you tie garland to stairs?
Step 1: Measure your staircase to determine the length of garland you will need.
Step 2: Use floral wire or zip ties that are easy to twist and secure.
Step 3: Start at the bottom of the stairs and secure one end of the garland to the banister with the wire or zip tie.
Step 4: Loop the garland around the banister, securing it at each post or at regular intervals with more wire or zip ties.
Step 5: Fluff and arrange the garland as you go to ensure it looks full and even.
How do you wrap string lights around a balcony?
Step 1: Measure your balcony to determine the length of string lights you will need.
Step 2: Begin at the power source and securely attach the end of the string lights to the balcony railing using plastic clips or hooks.
Step 3: Wrap the lights around the railing in a spiral pattern, making sure the lights are evenly spaced.
Step 4: Continue wrapping until you reach the end of the balcony railing, securing the lights with clips or hooks as needed.
Step 5: Plug the lights into an outdoor-rated extension cord if necessary, and arrange the cord safely to prevent tripping.
How do you untangle tangled lights?
Step 1: Spread the lights out on a large, flat surface like a floor or table.
Step 2: Find the end of the light string and begin to gently work through the tangles without pulling too hard, which can damage the wires.
Step 3: Gradually unravel the lights by following the natural loop of the tangle, and avoid forcing any knots.
Step 4: As you untangle, coil the lights loosely to prevent them from tangling again.
Step 5: If you encounter a stubborn knot, use a pen or a small tool to help loosen it without damaging the wires.

What is the best way to wrap up Christmas lights?
To wrap Christmas lights efficiently, use a cardboard piece or a plastic reel designed for lights. Wind the lights evenly, securing the end in a notch or with a twist tie to prevent unraveling.
What can I wrap fairy lights around?
Fairy lights can be wrapped around indoor plants, bedposts, picture frames, or draped along shelves and mantels. They add a whimsical touch to any room when wrapped around everyday objects.
How can I hang Christmas lights without gaps?
Measure the area where you'll hang the lights and calculate the strand length needed. Use clips or hooks at regular intervals to maintain even spacing. Start from one end and work your way to the other to avoid gaps.
More Article about stair lights